Management software will help you to boost your school through simple and useful applications and functionalities. Technology is changing the way we live, produce and consume. So you must adapt your business with digital tools that help you work better.
Through a study conducted by Capterra, we have found that almost 75% of SME entrepreneurs recognize that having management software makes their work easier and helps them significantly.
Ready to improve your business?

Software in SMEs: Does using software make your job easier?
Are you thinking about using a software solution, but are you hesitating between a cloud-based off-the-shelf product or a custom-made one?
As you can see, the data speaks for itself: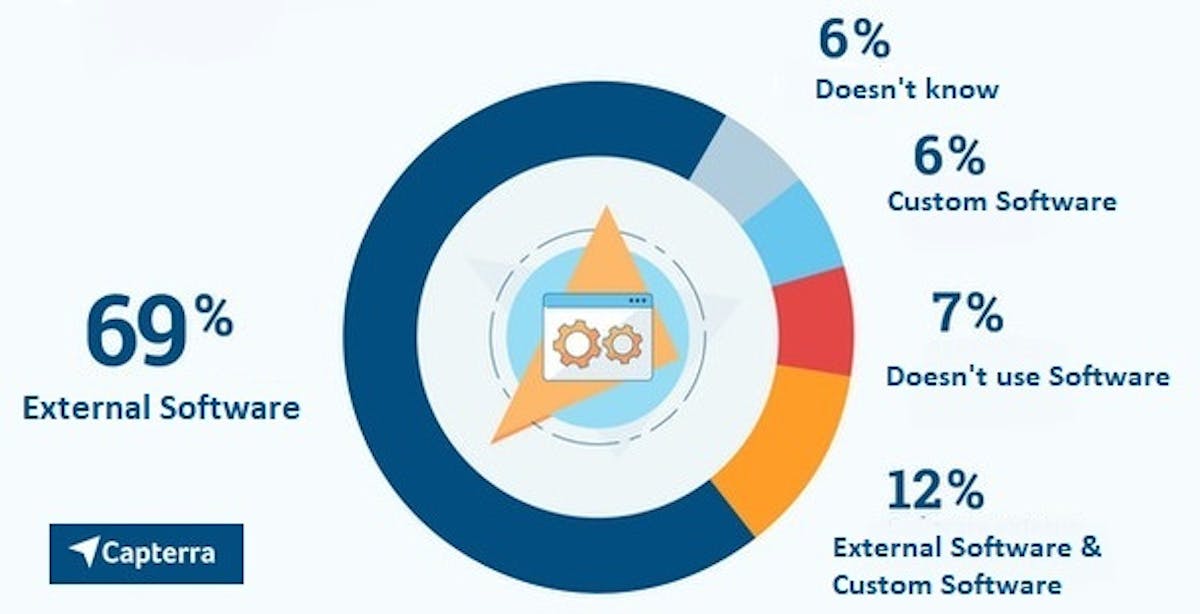 Software in SMEs: Do you use external or custom-made products?
External software
The software used by the company is not located or owned by the company. Instead, a provider takes care of the storage of this software in the cloud and maintenance and support. This means that any employee can access the software from anywhere globally without the need for prior installation, just by accessing it through a web browser such as Chrome, Safari, or Firefox.
Advantages
Lower cost: As an already developed solution, the price is fixed, and you avoid surprises.
Less risk: You can cancel it at any time if you do not want to continue and try another option.
Immediate availability: You don't need to invest months in a customized program if there are solutions on the market that you can try and use immediately from any device.
New functionalities and periodic updates are included in the fee.
Fewer bugs: other customers have used and tested the solution, which means that bugs are detected earlier and fixed quickly.
Disadvantages
Less adaptability: There are functionalities that you don't need or that are missing.
Custom Sofware
Custom software is also known as tailored solutions or ad-hoc software. It is a program that has been developed for a specific client or company, based on the needs of the users who will use the application and fulfilling specific characteristics.
Advantages
It can be adapted to the specific needs of your business.
More flexible and fully customizable.
You do not depend on the provider's decisions.
Disadvantages
High costs: The cost can skyrocket due to the complexity of the development and be up to 10 times higher in 3 years compared to a subscription-based management software from the market.
Long development period, usually more than 6/12 months, and most of the time, these projects suffer delays and go over budget until a functional version is available.
Maintenance problems: Lack of company availability to do maintenance and updates if they have other projects.
Upgrades/updates after development are paid separately.
Failures/Misunderstandings: In general, a customized software usually presents more failures than commercial software that already exists and is continuously tested. It is also quite common to misunderstand due to a lack of market-specific experience by the software vendor.
As you can see, using external management software that adapts to your type of business and needs will allow you to work better and more effectively:
You will improve multiple processes that until now took a lot of time out of your day-to-day. 
You, your teachers, and students will have access to information anytime, anywhere.
The communication with your students will improve thanks to notifications, individual and bulk messages that you can customize. Send newsletters with your dance studio activities and events.
You will have the Help Support team that will solve your doubts and questions. They will help you learn the ins and outs of the software and make sure you get the most out of it.
Your management software will always be up to date, supporting changes in tax regulations, privacy compliance, or other events that can affect your business.
If you choose a complete management software designed for studios like yours, you can enjoy extra features such as a mobile application for your students, who will be able to access it from their smartphones or tablets.
At Kydemy, we believe that now, more than ever, is the time to take this step. It's time to upgrade your studio; what are you waiting for?
You will no longer have to worry about managing mountains of paperwork year after year. Forget about losing information, your dance studio management becoming obsolete, looking out of fashion, or dealing with long and tedious tasks.
Just imagine what you can achieve: more students, more events, absolute control of payments, and time to focus on what adds value to your study... Now, take action.
If you want a definitive guide to the advantages of using management software for a dance studio and guidelines on how to do it, download our SOFTWARE SELECTION GUIDE for free.
We are here to help you. If you have any doubts or would like to try a free demo of our platform, request it easily and quickly by clicking here.